SERIES AIM
God loves, calls, saves, guides and cares for me.
Hear ye, hear ye! Announcing VBS 2022, The Mighty God—God Leads Moses and Me will soon be commencing. You will find this VBS 'tis most splendid! Aye, on this exploration, your squires will learn how much God loved Moses and how much God loves them. Next the squires will learn how God called Moses and how He calls every squire through reading His Word and the conviction of the Holy Spirit. From there, the squires will understand how God spared the Israelites by the Passover and how that relates to Jesus being the Passover Lamb for all and, with acceptance, salvation is freely given. 'Tis the greatest treasure! Then, the squires will learn how God led Moses and the Israelites and how God also leads them through life. This exploration will conclude at the purple room where the squires will learn how God cared for Moses and the Israelites and how God cares and provides for them also.
While exploring The Mighty God, they will discover "there is nothing too hard for thee: . . . the Great, the Mighty God" (Jeremiah 32:17, 18).
SETTING
The VBS setting is in a medieval town with a castle in the distance. The kids will be dressed in Renaissance fair attire. In this old-world town there are five main attractions: Blacksmith, Stable, Mercantile, Inn and Town Hall. There are other places and things to see such as a windmill, church and farm.
PARTICIPANTS

PLACES

Assembly: Village Square

Director: Baron

Teacher: Knight

Students: Squires

Music Director: Minstrel

Leader-Guide-Helper: Sentry

Crafts: Craft Shoppe

Snacks: Village Bakery

Games: Game Fair

Music: Musician's Court

Missions: Kingdom Quest
---
WHY YOUR CHURCH SHOULD HOST A VBS

Vacation Bible School can help your church to fulfill the Great Commission. Sharing the gospel message with children and families in your church and community has never been more fun or effective than with Vacation Bible School. VBS has the ability to provide:
a place of fellowship and growth for disciples of all ages in a submersive learning experience.

a more casual learning atmosphere for reaching unchurched families in your community in which they can hear and learn Bible truths.

a way for church families to experience the Bible together.

And much more!
There are MIGHTY possibilities of what God can do in your church and community with The Mighty God VBS. We look forward to hearing all about it too! Share you experiences using The Mighty God with us by connecting with us on social media.
By Royal Command,
We Invite You to
The Mighty God
VBS 2022 Publisher's Seminar
In person or on Facebook live
Saturday, February 26, 2022 from 8:00 am – 12:00 pm
Held in the facilities of
Northern Hills Baptist Church
6000 Sammy Lane
Texarkana, Arkansas
Or
on the Bogard Press Facebook page
An offering will be received.
No nursery will be provided.
Baptist Book Store will have extended hours for the seminar. Friday open till 8 pm.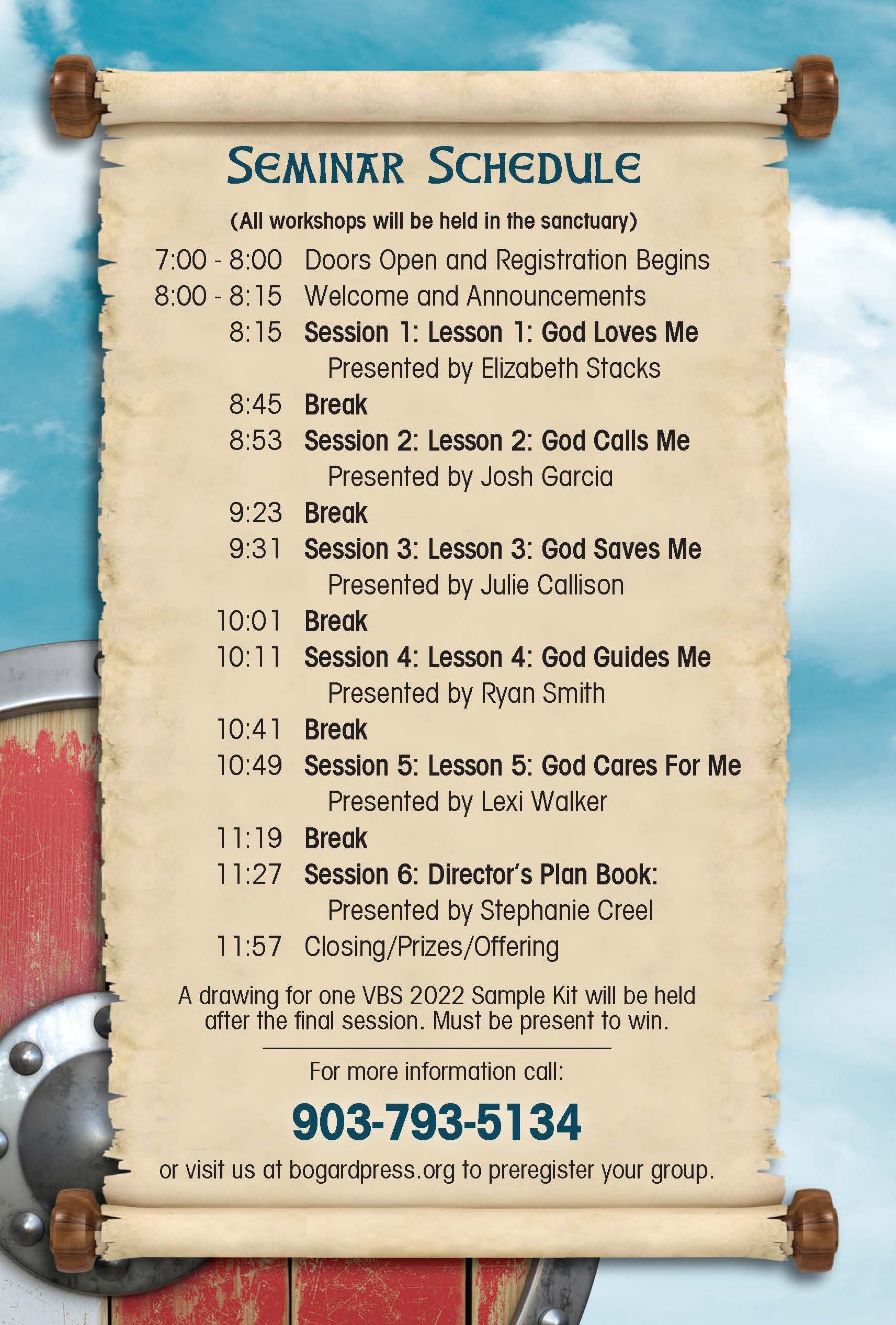 ---
The Mighty God
Promo Video
Would you like to download this promotional video?
Click here to go to our Vimeo page - then click on the Download button under the video.
---
Get The Mighty God VBS Sample Kit to start your church on a trip back in time as you look at the life of Moses!
Learn more about The Mighty God VBS Sample Kit in this year's VBS Sample Kit unboxing!
Originally filmed on September 30 as a Facebook Live event on the Bogard Press Facebook page.
---
Vacation Bible School Products
---
Vacation Bible School Videos
Vacation Bible School 2021 Promotional Video
VBS 2021 Theme Song - Salvation in a Boat
VBS 2021 Life Application Video - Kick Off
---
VBS Downloadable Resources