Sunday School SPLAT PRESCHOOL TELL CARDS, Spring 2023
SPLAT Preschool Tell Cards are a great resource for turning Sunday School into family ministry and are meant as the take-home component of SPLAT.
Not returnable after 03/05/2023
Sunday School SPLAT PRESCHOOL TELL CARDS, Spring 2023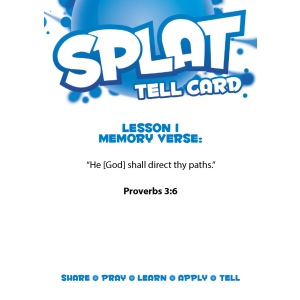 Product Description
For use during Tell time, SPLAT Preschool Tell Cards contain take-home activities for students. The 2.75" x 4" cards include the lesson memory verses as well as an activity for students and parents to do together that follows up the life application of each week's SPLAT Sunday School lesson.
Teachers will need one set of Tell Cards per student.
Uses King James Version Scriptures only.
Lessons:
1. God Gave Isaac a Wife (Genesis 24:4-27)
2. God Answered a Prayer (Genesis 25:19-23)
3. Esau Forgave Jacob (Genesis 25:27-34; 33)
4. Be Happy with What You Have (Genesis 37)
5. Joseph Provided for His Family (Genesis 45)
6. Moses and the Burning Bush (Exodus 3)
7. Crossing the Red Sea  (Exodus 14)
8. Ten Commandments (Exodus 19; 20)
9. Joshua and Caleb (Numbers 13; 14)
10. Joshua Became a Leader (Joshua 3:5—4:24)
11. God Calls Samuel (1 Samuel 3)
12. David Anointed King (1 Samuel 16)
13. David and Goliath (1 Samuel 17)
Theme: Jesus Is Alive! Matthew 28:1-8; Mark 16:1-7; Luke 24:1-12; John 20
Applications
1. God guides me when I ask Him.
2. God gave me to my mommy and daddy.
3. God wants me to forgive.
4. I should be happy with what I have.
5. God will provide for my family.
6. When God calls, I need to follow Him.
7. I need to do what God tells me to do.
8. I choose to love God and others.
9. I choose to always trust God.
10. I have to have courage and lead when God calls me.
11. I will listen when God calls.
12. What ways can I lead?
13. With God's help, I can do great things.
Theme. I can tell others that Jesus is alive.
Product Ratings and Reviews
Related Products
Check items to add to the cart or